Thesis

Carbohydrate Polymers 182, 2018, 172–179.

"Microencapsulation by pectin for multi-components carriers bearing both hydrophobic and hydrophilic active agents".

Journal. of Ethnopharmacology 220, 2018, 57–66.

"Artemisia asiatica ethanol extract exhibits anti-photoaging activity".

Journal. of Korean Oil Chemists Soc., Vol. 33, 4, December, 2016, 788-794.

"Biological effects of Vinca minor extract ; Tyrosinase inhibition, stimulation of ROS generation and increasement of cell migration activity in keratiocytes".

Bioorganic & Medicinal Chemistry Letters Vol. 17, Issue 7, 1 April 2007, Pages 1892–1896.

" Production of aminoglycosides in non-aminoglycoside producing Streptomyces lividans TK24".

Enzyme and microbial technology, 2005, vol. 37, no4, pp. 402-409.

"Biochemical characterization of a novel thermostable glucose-1-phosphate thymidylyltransferase from Thermuscaldophilus : Probing the molecular basis for its unusual thermostability".

Bull. Korean chem. Soc., Vol. 14. No. 5, 1993, 593.

Ring Transformation oF Ethyl 4-Carbethox-5,6-dihyro-1,1-dioxo-2H-1,2,6- thiadiazin-5-5- ylethanonate into N-Alkyl-5-carbethoxy-2-pridones.
Patent

PCT WO2004031393 A1 – A biosynthetic process of TDP-4-keto-6-deoxy-d-glucose as an intermediate of deoxy sugar
PCT WO2006009334 – Cytochrome p450 enzyme and the gene encoding the same.
PCT WO2006014047 – The enzyme concerning in biosynthesis of ribostamycin and the genes thereof.
특허 제1019309020000 생약 추출물 함포 펙틴 마이크로캡슐 및 이의 제조 방법.
특허 제1018533380000 지황, 황기, 당귀 및 황금 추출물을 유효성분으로 포함하는 보습용 화장료 조성물.
특허 제10-18029300000 – 글루코노박터 우치무레 GFC-cellul15 균주 및 이로부터 제조된 바이오셀룰로오스.
특허 제1017639130000 – 멜라닌 생합성 억제효과가 있는 빈카 마이너 추출물을 포함하는 미백용조성물.
특허 제1017493350000 – 빈카 마이너 추출물을 포함하는 화장료 조성물 및 이를 이용한 미용팩.
Patent no. 1017012390000 – Cosmetic composition containing an encapsulated bioactive and its manufacturing method.
Patent no. 1016786560000 – How to manufacture Hydrogel Mask sheet pack with enhanced functionality.
Patent no. 1016613530000 – Method of manufacturing a Hydrogel Mask sheet pack having control function of supply of single or different skin active ingredients.
Patent no. 1016980530000 – Manufacturing method of Hydrogel Mask sheet pack with embossed surface.
Patent no. 1010724790000 – Process for the preparation of racemic or optically active 3-hydroxypyrrolidine and derivatives thereof.
Patent no. 1009511080000 – Process for producing racemic or optically active α-glycerylphosphorylcholine and derivatives thereof.
Patent no. 1010083640000 – Method for producing racemic oxiracetam, (S) -oxiracetam, or a derivative thereof.
Patent no. 1008866500000 – A novel 2,3-sialic transferase and a method for producing a substance containing galactose at the terminal thereof using the same.
Patent no. 1005641610000 – Sch47554 and Sch47555 Enzymes involved in biosynthesis and their genes.
Patent no. 1005641630000 –Enzymes involved in ribostamycin biosynthesis and genes encoding them.
Patent no. 1005641560000 – A transcription activator derived from Streptomyces fuchtius and a gene thereof.
Patent no. 1005641650000 – Patent applied for several enzymes involved in tobramycin biosynthesis and its genes.
Performance of governmental and national policy tasks

Performance of main national policy tasks Secured technical competitiveness through joint development of cosmetic-related, advanced technology with industry-academia research institutions that are equipped with outstanding research foundations and facilities

연구실적
Project name
Research period
Total business expenses
(Unit: KRW 1,000)
Supervising government department
Form of participation
Development and commercialization of the mask sheet pack using skin-improving Vinca Minor Extract
2014.07.01
~ 2015.06.30
255,000
Ministry of Trade, Industry and Energy
Supervision
Development and commercialization of hydrating cosmetics using traditional herbal medicine prescription
2014.12.01
~ 2014.11.31
200,000
Ministry of Trade, Industry and Energy
Supervision
Production for Beauty Cosmetic Co., Ltd, construction of weight management system
2015.05.01
~ 2015.09.30
121,322
Ministry of SMEs and Startups
Supervision
Fused production information based on big data, and development of marketing analysis system
2015.10.01
~ 2016.09.30
171,369
Korea Industrial Complex Corporation
Participation
Development and commercialization of complex functional cosmetics using natural Pectin-based encapsulation
2014.07.01
~ 2015.06.30
558,000
Ministry of SMEs and Startups
Supervision
Development of complex functional mask pack using Korean bio cellulose Ministry of Trade, Industry and Energy
2016.05.01
~ 2017.12.31
672,670
Ministry of Trade, Industry and Energy
Supervision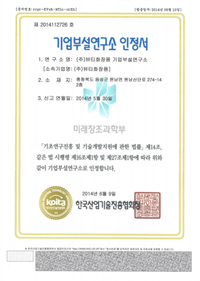 정영수 연구소장